BIPOC and LGBTQ+ students held demonstrations in the Quads for two consecutive days after two pride flags were stolen, released new demands for administration.
Student-led demonstrations late last month sparked conversation throughout Knox's community about campus culture, the upcoming presidential election and diversity and inclusion on campus – especially when it comes to Black, Indigenous and People of Color (BIPOC) students, LGBTQ+ students and the intersections of the two.
Here are brief summaries of those events.
Monday, September 28
Freshman Abigail King saw a Trump flag through the window, hanging on a closet inside one of the dorms on the first floor of the Raub-Sellew building.
"I'd never noticed this until one of my friends pointed it out," King said, "and I was like, 'If he can have a Trump flag there, then I can put a Pride flag down there.'"
With that thought in mind, King bought two Pride flags and hung the first on the windowsill of the dorm room in the courtyard with the understanding that it would likely be taken. While King was at dinner, the first flag was taken, and by the time she returned to the Quads, the Trump flag had been moved from the closet to be displayed in the window.
King said she placed her second flag in the rocks outside of the dorm room window and went to a tutoring session. At one point, King said her friends told her the flag was kicked down. They put it up on the windowsill, and King joined them at the table in the courtyard. Minutes later, a student came out of the building, took the flag and went back inside.
King and her friends have a grainy Snapchat video of a male student snatching the flag from the windowsill, wadding it up in his hand and heading back inside the building while King's friends run after him yelling for him to put the flag back and that they have him on video.
She says her friends were outraged and pushed her to report the incident to Campus Safety.
King filed a police report about the stolen flags with Galesburg Police Department Officer Kwan Cheuk on October 1, three days after the flags were stolen. According to the police report, King said she "just wanted to get her flags back from the person who took them if possible.
King said that she feels that people who have heard about the stolen flags have different intentions than she originally did when she put the flags in the courtyard.
"I knew they were going to be stolen," King said. "I did not care if they were stolen. I just wanted to put them down."
Anne Ehrlich, Vice President for Student Development, could not speak to specific actions being taken against any student or students who were said to be a part of this incident due to confidentiality, but said that there were violations of the Knox code of conduct and the student or students involved would have to face consequences for those behaviors.
A copy of the police report King filed about the stolen flags says the incident is being handled internally by Campus Safety. Dan Robinson, Associate Director of Campus Safety, declined to comment on the ongoing investigation. The student named in the police report has not responded to TKS's attempts to reach him for comment.
Tuesday, September 29
By Tuesday evening, news of a stolen pride flag had spread across campus and students began to notice two Trump flags and "TRUMP" written in sticky notes in three of the windows on the first floor of Raub-Sellew.
Around 6:30 that evening, senior Ikenna Ozor, the Raub-Sellew 1 Resident Assistant, noticed that students began to gather in the courtyard outside of the Raub-Sellew building. Ozor says that the group was playing music, but the interaction seemed calm at first.
Eleanor Burmeister, Director of Campus Life and one of the two staff members on duty that night, was called to the building briefly because people inside and outside of the building were blasting music. Burmeister only stayed for a few minutes because, at that point, everything seemed to be good-natured and no policies were being broken.
Ozor said that demonstrators outside of the Raub-Sellew building, students in Sellew 1 and students in Raub 2 were all blasting music. Ozor and a group of RAs told the three groups to turn the music down and the groups complied. Ozor said that the demonstration then turned into an open dialogue.
BIPOC students, who did not respond to emails asking for interviews, gathered again the next day and gave a different story. Speakers at the demonstration on Wednesday said an argument had broken out on Tuesday night which included hate speech toward Black students.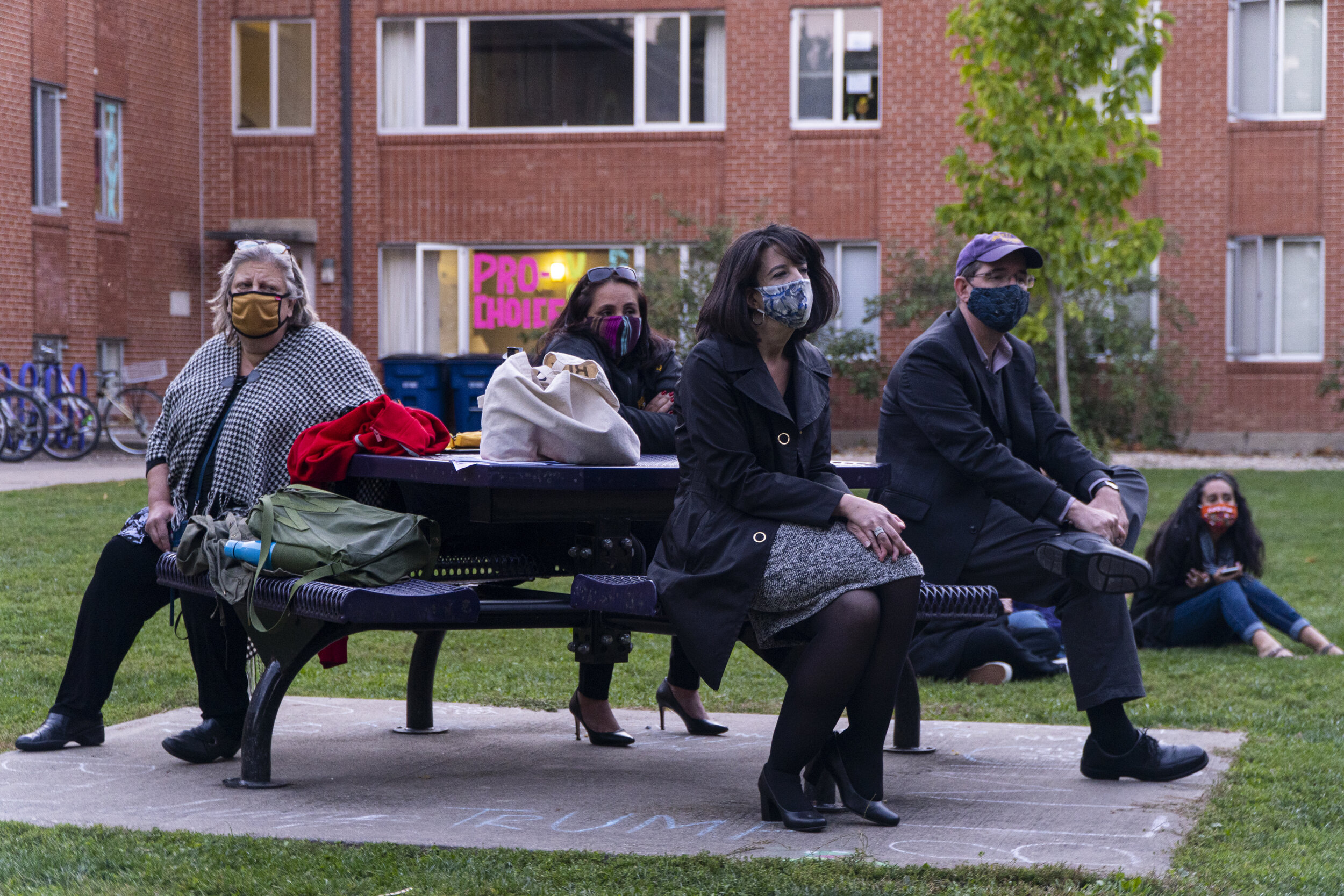 Wednesday, September 30
Wednesday afternoon, a group of BIPOC and LGBTQ+ students gathered in the courtyard outside of the Raub-Sellew building for a sit-in in front of the windows that displayed Trump flags and pro-Trump messages. Some faculty and staff members came to the demonstration to watch and listen to speakers including Ehrlich and Tianna Cervantez, Executive Director for Diversity, Equity and Inclusion.
Speakers, including Junior Monica Cardoza and sophomores Isaiah Simon and Manny Pina, talked about the events of the past two days, what the Trump flags represent to them and issued new demands to the college. After an initial conversation with the faculty and staff members in attendance, they sat in front of the windows that displayed the Trump flags and "TRUMP" sticky notes and held 15 minutes of silence.
Once the 15 minutes of silence ended, the students leading the demonstration opened the floor for other students to speak. BIPOC students spoke about why Trump flags are a symbol of hate to them and why campus feels like an unsafe space for many groups of students when Trump flags are prominently displayed. Larger issues of racial justice and equity on campus were also brought up.
A total of 33 students had joined the sit-in by its conclusion.
Brianna Goodwin '08 sent TKS screenshots of a list of demands that she said the leaders of the demonstration released. The demands were sent to Knox administration who are working to meet them and will not release them without consent from all of the students who sent them according to Ehrlich and Cervantez. Myla Boyd, junior and president of A.B.L.E, confirmed that these were the demands sent to administrators.
The demands, as quoted from the screenshots, are:
"We demand that the students who displayed hate speech :
Take down Trump flags from windows. As stated previously, these flags represent hate speech that we have heard from these people, it is not freedom of speech.

Are immediately terminated from their perspective sports teams (if applicable).

Have their scholarships revoked and redistributed to Black, Indigenous and People of Color.

Participate in trainings on concepts of race, sexuality, gender identity and sexual assault. And not only go through these training sessions, but also participate in dialogues about these issues.
We also demand that :
Intercultural life peer educators hold a conversation with the students that have hung Trump flags and the students that have spread hate speech on campus with others that were there to organize and take up space.

Knox significantly expands scholarship and funding opportunities for undocumented students/DACA recipients (prioritizing BIPOC).

The race discussion requirement of FP, as demanded in the Spring, be re-evaluated with PAID STUDENT feedback, and quickly re-shaped.

An investigation is conducted on the Knox Athletics Department for failing to protect BIPOC LGBTQ+ students, failing to adequately prevent sexual assault, and additionally for censoring Black student athletes from engaging in activism around Black life and using their positions on teams to silence them. Many Black student athletes feel alienated when trying to bring up issues of Black life within the department, and consequently never feel like truly part of the team.

All staff in the Athletics Department undergo additional LGBTQ+, BIPOC-centered Sexual Assault training.

That any and all relationships the Title IX office has with any other department be officially and entirely disbanded, including that with the Athletics department, as to prevent and end unfair protectionism.

The athletic department will examine its own culture that they currently uphold and will implement solutions to develop a culture that upholds BIPOC and LGBTQIA students.

That Knox includes and PAYS LGBTQ+ BIPOC students in all decision making processes."